waffey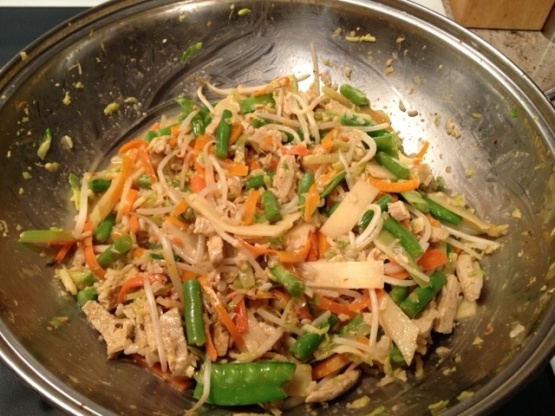 This is delicious! If you're short on time, use a packaged frozen vegetable medley for some of the fresh veggies. Use vegs. of your choice.

Top Review by waffey
Loved the assortment of fresh vegetables. I added some tofu for protein. However, I agree with other reviewers that the sauce could use a bit more flavour. Will definitely make again, but perhaps only 1/2 cup of water and 3 tablespoons of soya sauce next time.
Cook the onion, garlic and ginger, stirring, in the oil over medium-high heat.
Add the carrots and celery, and cook, stirring, 5 minutes.
Add the mushrooms, peppers, cabbage and zucchini, and cook 3 minutes more.
Add the bean sprouts, green beans, snow peas, bamboo shoots, water chestnuts and tomatoes, and cook 3 minutes more.
Stir together the water, soy sauce and cornstarch; stir gently into the vegetable mixture.
Cook until the sauce is thickened and all the vegetables are tender-crisp. Salt and pepper to taste.
Serve over rice.