Vegetarian Chili-- Fat Smash Diet Phase 1
bujong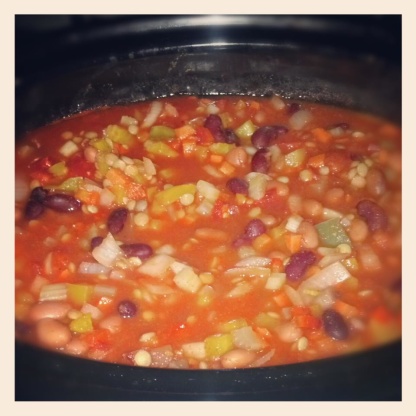 This is my nightly dinner when on the Fat Smash Diet, Phase 1. All veggies & beans, no meat! It keeps dinnertime easy.... I'd like to note this isn't completely vegetarian due to the pinto beans, sometimes having bacon in them.

Top Review by bujong
this is a good recipe if you are on phase 1 of the fat smash diet. its taste really good and very filling. just to let you know this is a chili and it will be spicy. if you are not into spicy food just tamed it down a bit by reducing the chili powder to a tablespoon.
Put all ingredients in the crock pot for 8 hours. or simmer on the stove in a pot for 3 hours, stirring every 20 minutes.
add 1 ounce of low fat cheddar cheese on the top! (if youre on the fat smash!).