Vegetarian Cabbage Plus Casserole
Bergy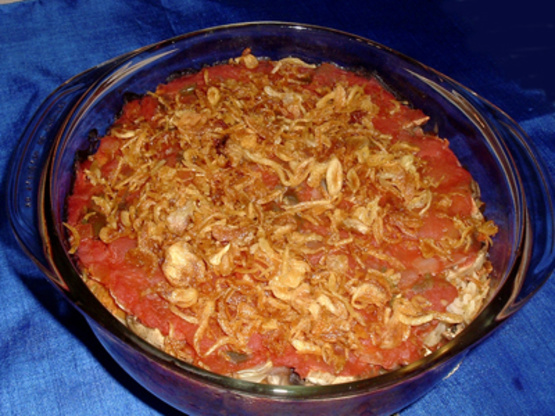 I am trying out several of the ready made vegetarian meat substitutes and this casserole is a result of my trial by fire! Play with the ingredients add more heat, garlic or whatever your favorite herbs and spices are. I look at this recipe as a stepping stone to other recipes.The fried onions that I use in the recipe for the topping are the prepared ones - One brand is French's but you may also buy them in Oriental markets as fried red onions

I made this recipe with my homemade veggie crumbles and it was very good. Next time I would leave off the fried onions though. I didn't think they added much to the final product.
Place half the cabbage on the bottom of a lightly greased casserole dish.
Mix the garlic with the ground round.
Then layer the veggie ground round, rice,carrot,onion, mushroom, remaining half of the cabbage.
Top with the tomato/salsa.
Cover and bake in 350 oven for 1 hour.
Top with the fried onions and serve.