3 Reviews
Who said Germans can't cook? Well, at least that's what my BF said after he tried this (he's part German). I used feta cheese and less oil. I also left out the veggie sausages/bacon. I strongly recommend you boil the potatoes longer than 10-15 minutes, especially since they're whole at that point. I boiled mine for at least 20 minutes. I liked the way they browned nicely in the frying pan. Made for ZWT 6.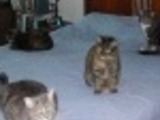 I used fingerling potatoes and a tofu Beta Feta cheese. So good! Thanks!

Since the veggie sausages were optional, I left them out. I used olive oil for sauteeing my onions, then added the boiled potatoes. My potatoes were a mix of various heirloom baby and fingerling potatoes that were a real find at the farmers' market. They varied in color from white to yellow, pink and even purple. I kept the skins on. The feta melts and gets creamy-delicious! What a fantastic side dish tonight with our fish! This is a perfect example of a less-is-more winner of a recipe. Thanks, Enjolinfam! Made for PAC Fall 2008.

Vegetarian Bratkartoffeln (German Fried Potatoes) W/ Feta Cheese