Vegetarian Black Bean Chili
Prep 20 mins
Cook 20 mins

This is such a good vegetarian chili recipe. It goes well with cornbread.
Directions
In a large pot, saute onions in oil for 5 minutes.
Add mushrooms, peppers, and garlic; saute 5-6 minutes, until vegetables are crisp-tender.
Stir in remaining ingredients; bring to a boil. Reduce heat; cover and simmer 20-25 minutes, until heated through.
Most Helpful
This is a great recipe. I did make some changes based on the ingredients I had on hand. (e.g. I used dried beans. After cooking them, I used some of the bean juice in the chili.)

We had enought left over to freeze. It was just as good after freezing and reheating. Thanks!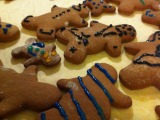 I thought this was pretty good, but I definitely didn't think there were enough beans; I ended up adding an extra can of black beans as well as some cilantro I had laying around to the mix. With those modifications, it was perfectly to my taste. Also, it froze well. Yum!
Made this for supper this week. Great recipe. Easy and quick to make, delicious in our tummy's! I didn't use the peppers as I didn't have any and just added another can of beans instead. Even my 2 year old ate it!