Vegetarian Beans and Rice
tamalita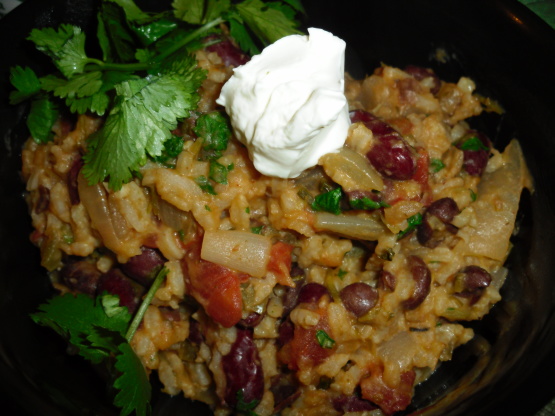 This is actually a recipe my dad makes for dinner, and it's one of my favorites. He comes up with wonderful recipes off the top of his head, and this Mexican-inspired one is one of the best.

Delicious! I made a few minor changes, mostly to accommodate our preferences. I did think about adding uncooked rice to the mix, but in the end went ahead and pre-cooked the rice. I added 1 can of red kidney beans and 1 can of black beans (only because the can of kidney beans I had was smaller than the recipe called for). Although the lime I used was very juicy, I still didn't think there was enough liquid in the bean mix so I added a can of tomatoes and green chiles. I used Mexican style sour cream, because it was what I had. I only baked the mixture for 30 minutes. The result was absolutely delicious. The flavors of the lime and cilantro and cumin complemented each other so well. Although I resisted the temptation to add cheese, I did add a dollop of sour cream before serving.
In a cast iron or other heavy pot with a cover that can go from stovetop to oven, saute onion, green pepper and cilantro stems on high, stirring constantly, until onion becomes translucent.
Add oregano, cumin, chili powder and bay leaves and saute another minute.
Add garlic and salt, saute briefly.
Add a couple of tablespoons of water to stop garlic from cooking.
Immediately add beans and salsa, lime juice and hot sauce, and lower heat to medium, stirring frequently.
When mixture begins bubbling, lower heat again, until just simmering. Stir occasionally and simmer for about ½ hour.
You may have to add a little water from time to time if mixture begins to dry out.
Preheat oven to 350 degrees.
Chop reserved cilantro leaves.
Add ½ of the cilantro leaves, the cooked rice and the sour cream. Stir to mix evenly throughout the beans.
Cover and bake for 35 to 45 minutes.
Remove from oven and stir in the other ½ of the reserved cilantro leaves.
Serve.