Vegetarian Baked Stuffed Red Bell Peppers
dojemi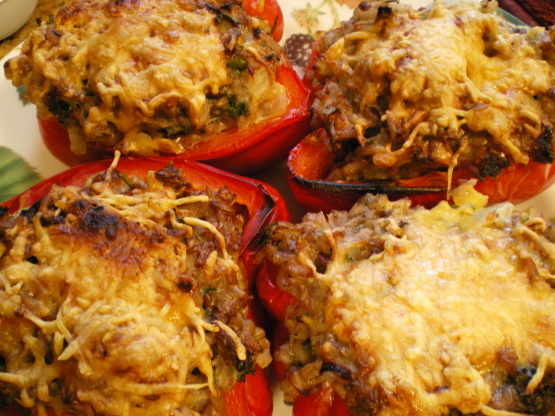 Good served with: stewed tomatoes and corn bread.

Well, the stuffing was good but there was not enough of it. I used 3 pepper, two large and one smaller. I needed more stuffing. I think 2 large peppers would be better (4 halves). Also agree that maybe some tomatoe sauce would be yummy with this. It was good.
Cook rice in 1-1/2 cups boiling salted water for 35 minutes or until tender.
Drain if necessary.
Set aside. Cut peppers in half.
Remove seeds and white membrane. Parboil peppers in boiling salted water for 5 minutes.
Arrange in slightly oiled, shallow 1-1/2 quart baking dish.
Melt butter in small skillet. Add onion, celery, and sunflower seeds.
Saute until onion is tender.
Remove from heat. Stir into rice. Add parsley, eggs, oregano, jalapeno pepper, black pepper, and salt to taste. Fill peppers with mixture. Sprinkle cheese on top.
Put about 1/3 cup hot water in bottom of dish.
(I use the water used to parboil the peppers.) Bake at 400 F for about 20 minutes.