Vegetarian "baked" Beans (Crock Pot)
Parsley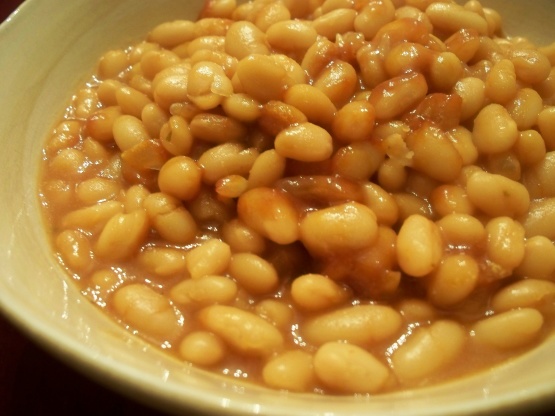 Based on Slow Cooked "baked" Beans, Slow Cooked "baked" Beans by Grease. I changed the recipe to make it vegetarian and to accommodate my very large crock pot. This recipe should be able to be halved pretty easily. Cooking time will vary according to how long you have soaked the beans, what size crock pot you have and the kind. Different ones seem to cook at different temps. This recipe is on the sweet side, so adjust for your own taste. Would taste great with veggie hot dogs.

This may be the best recipe I've made in the crockpot, but I used this recipe as a guide and tweaked it a lot. It's far too sweet, I cut down the brown sugar but will cut it again to 3/4 c. I used a bottle of beer instead of the water, and crushed tomatoes instead of ketchup, and a whole onion and two cloves of garlic. For very little work we have a delicious pot of beans and lots to freeze.
Soak navy beans overnight- the longer the better. I usually soak them for about 12 hours.
Drain beans and rinse off. Put into crock pot along with the rest of the ingredients.
Cover crock pot and cook 7-8 hours on high or 10-13 hours on low. These cook times are approximate. Cook until the beans are finished. Add water to crock pot if needed.
Enjoy!
Note: Cook time listed does not include soaking time.