Vegetarian American Chop Suey (Crock-Pot)
Annacia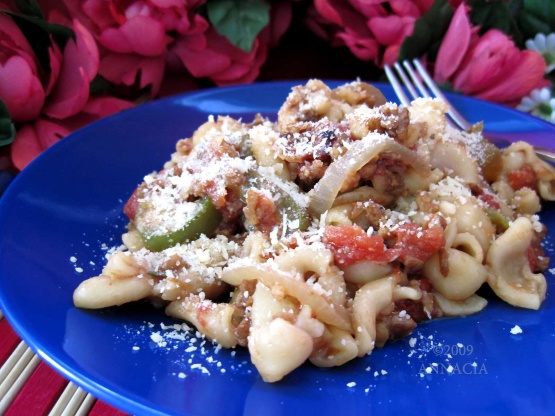 This reminded me of American Chop Suey (an old '60s comfort food recipe which I used to make in a skillet on the stove) but healthier and made in a crockpot. I thought a chopped green pepper or sliced mushrooms may be great additions to this recipe. Adapted from Fresh From the Vegetarian Slow Cooker

It surely rates as comfort and I love that it's veggie!. I cut the recipe amount in half and thats 2 mighty hefty servings, I had a bout 1/4 of it and found that satisfying. Took ellie's suggestion and added some green pepper an that was a good addition. The amounts are right on mark. It says 1/2-1 cup hot water and I used the full cup, good thing too as the 4 ounces of macaroni took it all. Think I'll add some salsa next time or maybe chili powder :D.
In a skillet over medium heat heat oil and then add onion, cooking until softened. Stir in garlic and cook another minute or so. Although I didn't use them I thought a green pepper and/or mushrooms would be great to add to the skillet.
Transfer onion mixture to the crockpot.
Stir in next 7 ingredients (tomatoes - pepper) and cook on low for 3 1/2 hours.
Stir in pasta, cover and cook on low for another 30 minutes.
Stir in basil and sprinkle with cheese.