Vegetables & Udon in Chicken - Miso Broth
Rita1652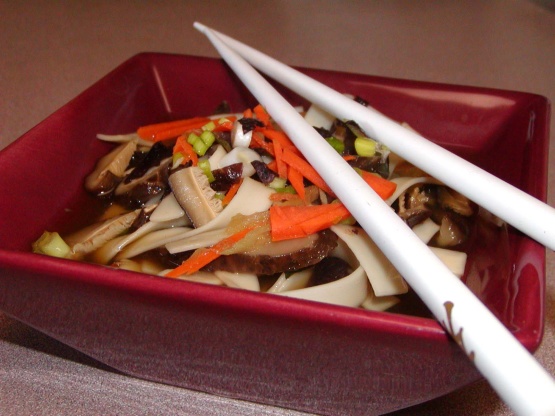 This is a good healthy soup. It takes time, but is worth it. It is based on a Womens Weekly recipe.
Combine bones, the water, carrot, celery, peppercorns, bay leaves and brown onion in large saucepan, bring to boil.
Simmer uncovered 2 hours.
Strain through muslin lined strainer into large bowl.
Reserve stock, discard bones and veges.
Meanwhile place mushrooms in medium heatproof bowl, cover with boiling water.
Stand about 20 minutes or until just tender; drain.
Discard stems, slice caps thinly.
Bring stock to boil.
Add miso, ginger and sauce, simmer uncovered 5 minutes.
Just before serving, stir in noodles and mushrooms; simmer uncovered until noodles are just tender.
Stir in extra carrot and green onion; sprinkle with nori.