Vegetables in Two Cheese-Beer Sauce
Prep 15 mins
Cook 20 mins
This dish goes with so many "stand-alone" meats. Nice creamy flavor and pretty golden color.
Directions
Cook broccoli and cauliflower in boiling water for 6 minutes or until desired doneness.
Drain well and keep warm.
Meanehile, in smaller saucepan over medium heat, combine soup, beer, cheese, and nutmeg.
heat through stirring frequently.
Pour vegetables into serving dish.
Pour sauce over top when ready to serve.
Most Helpful
This cheese sauce is absolutely delicious. I used 2 cups frozen broccoli, 2 cups frozen cauliflower. The nutmeg flavor just tops it off, very subtle. Thanks so much for sharing this!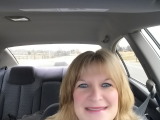 I love vege's with cheese sauce and this was so good. Used frozen broccoli, cauliflower, and carrots (california blend) that I thawed in the microwave. The sauce is easy to put together and the nutmeg is mild, not an overwhelming flavor. A quick and very tasty side dish! Made and reviewed for KC's Cookathon for KGCOOK's.