twissis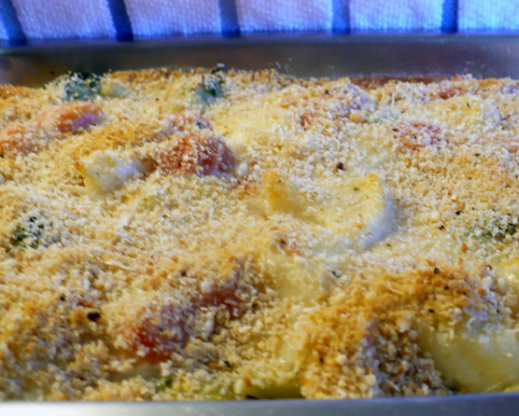 This creates a very rich dish, which can be varied according to taste by simply changing the cheese and / or vegetables used.

This is such an excellent recipe! Rich, satisfying, flavorful, ingredient-friendly, easily made-ahead for last-minute baking or rewarming & also company-worthy. It was in fact the hit of a recent family dinner party where I used carrots, cauliflower & broccoli as the veggies with a blend of cheese (Gouda & Cheddar). My only issue w/the recipe was that a 1 qt dish (even deep) didn't come close to holding 5 cups veggies, 1.5 cups cheese, 1 cup milk, 1/2 cup chicken broth & 1/2 cup breadcrumbs ... with 11 tbsp of other ingredients smaller amt ingredients. In fact, it seemed to me that the recipe would easily serve 8, which would also improve the nutritional facts. We loved this! Thx for posting this sure-to-be-recpeated recipe. :-)
Steam carrots, cauliflower and green beans until fork tender.
In a separate, large saucepan, melt margarine. Add onion and cook over medium high heat, stirring occasionally until tender.
Whisk in flour, celery salt and oregano. Cook and stir one minute. Add milk, broth and lemon juice.
Cook and whisk until thickened and bubbly all over.
Stir in shredded cheddar until melted. Add hot, drained vegetables to saucepan, stirring to coat evenly with the sauce.
Pour vegetables and sauce into deep one quart casserole dish.
In a small bowl, combine bread crumbs with romano cheese, olive oil and parsley. Mix well.
Sprinkle bread crumb mixture over the top of vegetables.
Bake uncovered in 350 F oven for 25 - 30 minutes, until heated through and crumbs are golden brown.