Vegetable Vermicelli Upuma
Sana7149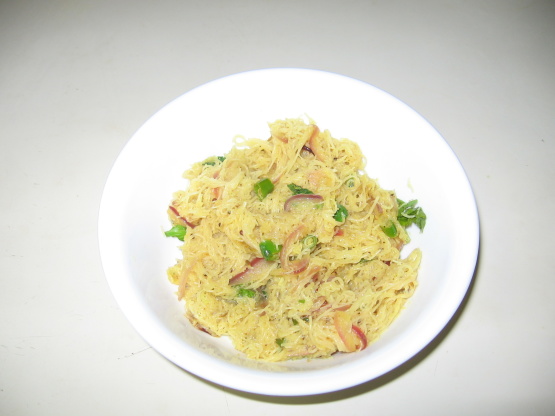 My mom and dad love this for breakfast. Very nutritious and keeps your stomach filled until lunch time. This also makes a good snack for a picnic or otherwise.

Thanks for the recipe Charishma. I had heard that people make vermicelli upma and tried it on my own once and it was a disaster. I didnt know that you need to cook the vermecilli separately :) I didnt add the vegetables as my husband doesnt like any kind of veggies in his upma. Still turned out great
2

cups vermicelli

1

medium carrot, scraped,washed and cut into quarter inch sized cubes

6

French beans, washed and cut into quarter inch sized cubes

1

small cauliflower, washed and cut into small florets

1

inch fresh ginger, peeled,washed and finely chopped

1

medium onion, peeled,washed and finely chopped

2

green chilies, washed and slit

1

medium red capsicum, washed,de-seeded and cut into quarter inch sized cubes

6

curry leaves, washed
1⁄4 cup green peas, washed and boiled

4

tablespoons oil
1⁄2 teaspoon mustard seeds

1

tablespoon lemon juice

2

teaspoons black gram, split (urad dal)
Boil water in a pot.
Add a little salt.
Boil the carrots, beans and cauliflower in it for 10 minutes.
Drain.
Keep aside.
Boil vermicelli in 5 cups of water with salt to taste and 2 tbsps.
of oil till slightly underdone.
Drain.
Refresh under cold water.
Keep aside.
Heat the rest of the oil.
Add mustard seeds and curry leaves.
Once the mustard seeds stop spluttering, add black urad dal, chopped ginger and onion.
Saute until the onion turns light brown.
Add green chillies.
Add the cooked peas, carrots, beans, cauliflower, capsicum and salt.
Saute for 5 minutes.
Add the cooked vermicelli.
Stir gently.
Cook for 5 minutes.
Remove from heat.
Squeeze lemon juice over it.
Serve hot for breakfast!