Rita1652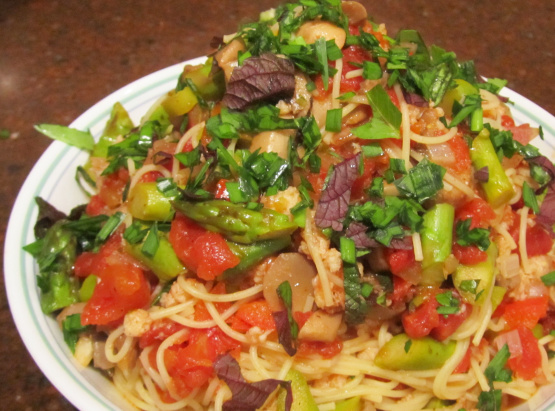 Quick and easy to make, and healthy too. When it comes to these kinds of recipes, I like and enjoy the contrast of colours, because we, of ocurse, eat with our eyes first. Cooking time will include the cooking of the pasta, even though it has already been cooked by the time you go through the steps of the directions, below.

Interesting! I did make half the amount of the recipe using 3-4 cups pasta. 4 cups cooked pasta serves 4 not 6 so this is higher in calories then stated. But I found I need to add more pasta to the amount of veggies. As I read the directions I couldn't figure if this was a main dish salad to be eaten cold or a main dish pasta at room temperature? I wouldn't have enjoyed as a hot dish with some grated cheese on the pasta. If a salad it could have used some vinegar. As for the asparagus I snapped off the tough ends then sliced into 1/2 inch slices. Which I prefer to whole asparagus. Loved the basil and chives. Thanks.
Let angel hair pasta cool slightly, after being cooked.
In a large, heavy duty frying pan, heat olive oil on medium high heat. Saute onion for five minutes, or until translucent, and then add garlic for another three minutes. Be careful not to burn the garlic.
Add all the vegetables and saute for another 5 minutes. At this point, add the pasta to the frying pan, and saute until angel hair pasta has warmed up again. Be sure to mix the ingredients well, while sauteeing.
Gently place the pasta mixture in a medium sized bowl, and let cool completely. Once cool, add the tuna fish, and mix well. Garnish with basil leaves, and chives.