Chouny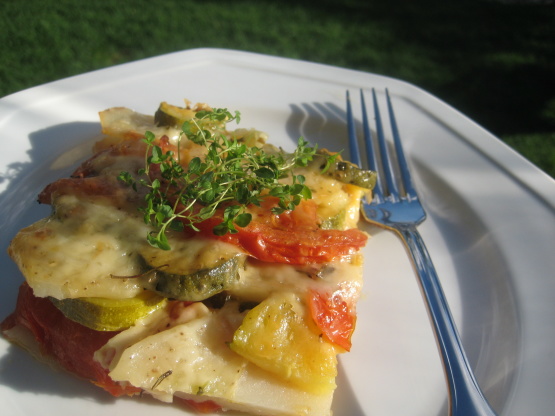 What can I say... such a wonderful and delicious way to eat vegetables. The flavors blend together so well and create this rich and spectacular dish. My whole house smelled like baked lasagna while baking this dish! Try using Vidalia onions for their sweet taste.

Top Review by ImPat
WOW fresh vegies, herbs and cheese what more could you want. I scaled this back for 3 serves but still had a 1/4 of mix left over, I made in an 8x8 pan and used sweet potatoe instead of regular and I am not sure what yellow zucchini is but used yellow baby squash which I sliced (ended up with sweet potatoe and zucchini that I could fit into the pan), I used a preshredded cheese mix of mozzarella, parmesan and cheddar and well the stunner was the DM just gobbled hers up giving it presendence to the chicken (vegies normally are second to meat with her) so I thank you for a great recipe Chouny
Slice all the vegetables.
Butter a 9 x 13 dish, Starting at one side of dish, create rows of vegetables, alternating slices of potatoes, tomatoes, zucchinis, that are standing on edge, until dish is full. Disperse sliced garlic throughout the dish.
Add salt and pepper, drizzle olive oil all over the vegetables.
Add, sprigs of rosemary, thyme, basil.
Sprinkle cheeses and cover with aluminium foil.
Bake at 375 for 40 minutes, remove aluminium foil and cook for another 30 minutes.