Vegetable Stuffed Fennel Bulbs
Bergy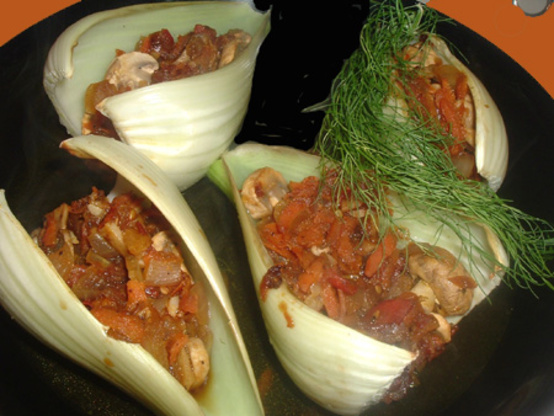 ------This is an elegant side dish. The wonderful flavor of the fennel adds a special taste to the other vegetables. Perfect recipe to compliment that special dinner party. If you want to take a short cut for your everyday dinner- Instead of steaming the fennel stalk ends chop up 1/3 cup of the stems and stir fry with the other vegetables. The chopped fennel takes a while to cook so start with the stems then add the tomatoes, carrots and the rest. Serve the shortcut version over rice. The chopped fennel is not as attractive as the whole stuffed stalk. Save some of the fern like tops for a garnish.------

As a fennel fiend, I was eager to try this side dish. After reviewing the instructions more closely I found myself somewhat confused as to how to cut the fennel bulb. Part of the confusion stems from the mention of bulbs (plural) while the recipe itself called for just one head. I ended up quartering the head and removing the core from each piece to create a small canal in which to place the filling. The filling itself was good, a nice combination of bright flavorful vegetables. The soy-brown sugar combination added a nice flavor but it did overpower the other flavors. Were I to make this again, I would reduce each by half. While I liked the fennel and stuffing as separate components, the flavors did not marry well together. (We actually used some of the stuffing with zucchini which has a far more neutral flavor and that worked very nicely.) So much creativity here. Thanks.
1

head fennel, cleaned, stalks separated, cut off a 4-inch piece from 4 stalks

1

tablespoon vegetable oil
1⁄3 cup carrot, shredded
1⁄3 cup white onion, chopped
1⁄3 cup fresh tomato, chopped
1⁄3 cup fresh mushrooms, thinly sliced

4

tablespoons soy sauce

2

tablespoons brown sugar or 2 tablespoons Splenda brown sugar blend

3

garlic cloves, finely chopped

1

teaspoon hot pepper flakes (optional)
salt & pepper
1⁄3 cup chicken stock or 1⁄3 cup white wine
Steam the 4" pieces over water for 15 minutes or until they are just beginning to soften, They should still be crisp. Set aside to cool.
Meanwhile heat the oil in a large fry pan- add the shredded carrots, onion, tomato, mushrooms and garlic.
Saute for apprx 6 minutes.
Add salt & pepper to taste.
Sprinkle in the pepper flakes (if using).
Mix Soy Sauce & brown sugar, add to the vegetables. Simmer for apprx 6 minutes or until the soy has evaporated.
Cut a very thin slice from the underside of each fennel stalk, Do not cut through it just take enough off so they can sit upright.
Place stalks open side up in a shallow baking dish.
Stuff apprx 3 tbsp of the vegetable mixture in each bulb.
You may make the recipe up to this point and finish the last step 20 minutes before dinner.
Pour the wine or chicken stock around the stuffed bulbs, cover with foil and bake in a 350 degee oven for 20 minutes.
Garnish with green top on the plates.