Vegetable Stir-Fry With Tofu
Hadice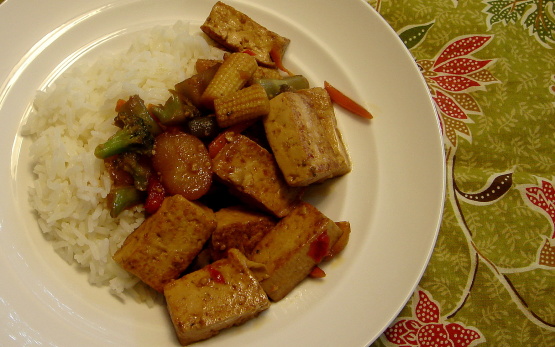 Recipe from "8 Weeks to Optimal Health" by Dr. Andrew Weil Posted here for safekeeping. Cooking and prep times are approximate. Dr Weil's note: Baked, pressed tofu is available refrigerated in health-food stores and Asian grocery stores. ETA: I made this tonight. Sorry, I didn't time the prep. Lots of chopping of course. I used PAM instead of oil in my well-seasoned cast-iron skillet and didn't miss it. I found the flavoring mixture tasty but it stayed runny. You could either add it earlier in the stir-frying to see if it cooks down or add some cornstarch. I got 4 generous servings out of it and served it with Tom Ka (thai) soup and jasmine rice.

Top Review by Hadice
I marinated my tofu in a sauce similar to the sauce used here. I also pan fried it instead of baked it (I like crispier tofu.) I slightly reduced the amount of veggies. Simple and light, the brown sugar cuts out a saltiness of the soy sauce. I served mine over jasmine rice. GOOD. Water chestnuts and baby corn absorbed the sauce the best. My sauce didn't really thicken either, I would recommend a little cornstarch as well.
Slice the tofu into strips and arrange on a plate with prepared vegetables, separated by variety. (You may be able to buy mixed stir-fry vegetables in packages from your supermarket.).
Mix the flavoring mixture ingredients until the sugar dissolves. Set aside.
Add the canola oil to a large skillet or wok, place over medium-high heat, and add vegetables. Cook sturdier vegetables first, saving tender ones like bean sprouts and asparagus for later. Stir vegetables constantly, adding a little water if necessary to keep them from sticking or burning.The idea is to produce a mixture in which all the items are crunchy-tender and retain their colors and individual character.
Add the tofu and the flavoring mixture. Continue to cook over high heat for 1 minute, then serve over rice or noodles.