Vegetable Soup on the Double
Annacia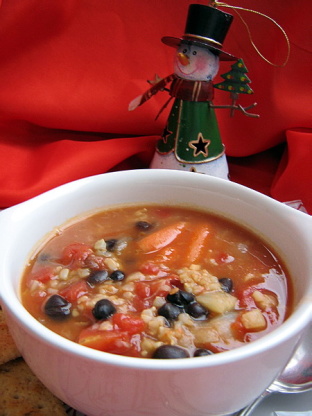 I needed something for lunch the other day that was healthy and good. This was originally made using Success Boil in Bag Brown Rice and the recipe now has been updated to show that 1 cup of cooked brown rice is used in the recipe. Hope you enjoy!

Excellent soup that is thick, hearty and full of good things. I used some black beans for the squash because I had them needing to be used up. I didn't have type of rice ask for so I used 1/4 cup of raw brown rice and that worked very well. Very tasty lunch Paula. Thanks for posting.
In food processor, chop onion and garlic.
Place the slicer blade on the food processor and slice all the vegetables.
In a large saucepan add the broth, tomatoes, vegetables and spices.
Cover and bring to a boil over medium high heat.
Boil gently 15 to 20 minutes.
Vegetables will be crisp tender.
Add freshly ground black pepper to taste.
To serve: Divide the rice into 4 servings and place in serving bowls.
Ladle the hot vegetable soup over the rice and enjoy.