Debbwl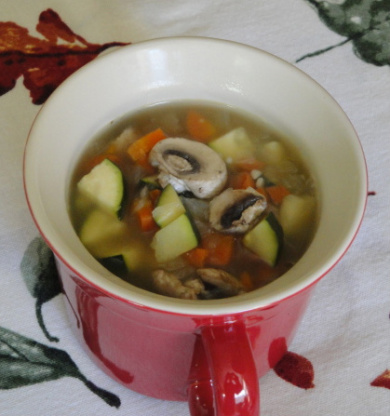 Modified from Vegan Cooking for One.

I%u2019m such a bad soup maker, so I was pretty sure I%u2019d mess this up, but your recipe was great, easy and tasty! I improvised (which is often how I become a bad soup maker) and used Vegetable Broth instead of water, upped the garlic quota to 3 cloves and used diced celery hearts instead of mushrooms since that%u2019s what I had on hand. My 6 year old twins said a restaurant would be lucky to have this recipe, which is quite a compliment coming from them.
Chop onion and crush garlic. Saute in oil in saucepan for 2-3 minutes.
Add the water, bay leaf and seasoning. Bring to boil, lower heat, cover pan and simmer for about 10 minutes.
In the meantime, chop veggies finely. Add to saucepan and raise heat until it's fully boiling again. Then lower heat, cover pan and simmer for 10 more minutes. Serve with bread.