Vegetable Soup Crock Pot OAMC
Parsley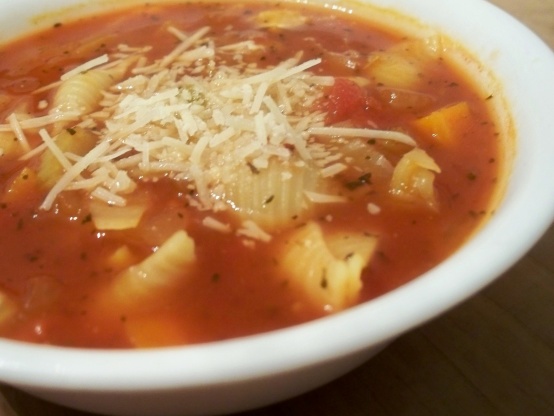 A very nice hearty soup to come home to. Great to throw in the freezer and have it ready when you are!

Top Review by 900759
I'd never thought about using tomato juice before as part of the base, but it really turned out great. The flavors were wonderful. I've done two things with this recipe: I've made it as a veggie soup (sometimes adding kidney beans to make it more hearty) or I've added 1 1/2 lb italian sausage and made a "lasagna" soup. Both are really good. I also sometimes add a little red pepper to add some kick!
In a large freezer bag combine all ingredients except pasta shells and grated cheese. Seal the bag, squeeze out as much air as possible.
In a 1 quart freezer bag add the parmesan cheese, seal the bag.
I choose to also add the pasta shells into a quart size baggie so I have everything in one place.
Place the 3 filled bags and the printed recipe into a large freezer bag, seal.
To cook; thaw.
Pour veggie mixture into the crock pot. Cover and cook on low for 7-8 hours, or until veggies are tender.
Add pasta to the mix during the last hour of cooking.
Serve with grated parm cheese.