Vegetable Soup (Coral Tree Cafe)
KateL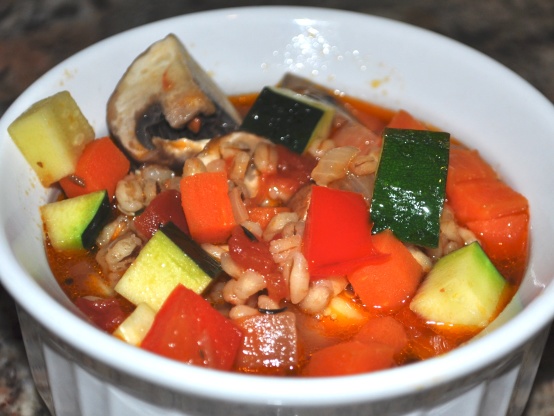 The Coral Tree Cafe offers "honest to goodness healthy and organic California-style cuisine in a casual indoor/outdoor atmosphere" located in and around Los Angeles, California. This is an adaptation of their popular vegetable soup. It is made with an assortment of vegetables, fresh thyme, and marinara sauce.

Delicious! I made it early in the day and reheated it for dinner and it tasted better than it had earlier in the day. Served with veggie quesadillas for a great meal. Thanks for sharing the recipe.
Heat a heavy bottomed pot over medium heat; add oil, onions, carrots, bell pepper, thyme, and barley.
Cook, stirring occasionally, until vegetables begin to brown, about 18 minutes.
Stir in the vegetable broth and marinara sauce; cover and increase heat until mixture boils.
Reduce heat to a gentle simmer and allow to cook until the barley is al dente, 6 to 8 minutes.
Stir in the mushrooms and zucchini; season to taste with salt and pepper.
Cover and continue to simmer until mushrooms and zucchini are just tender, 4 to 6 minutes.
Remove from heat, add a little water to thin soup if it has become too thick; adjust seasonings and serve.