Pamela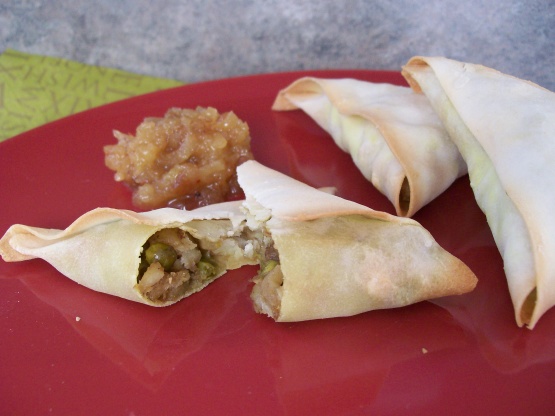 This is a spicy pungent flavoured side dish or can be used as a filling for samosas.

I added ground corriander and cumin which gave it a REAL flavour punch! And Caynne pepper which gave it a kick. Don't be afraid to add more of all the spices, in my opinion you can't have too much flavour in a samosa! They were soooo popular at my Tupperware party that I was asked to make them for a friends farwell too. I put them in puff pastry tringles...a little fiddly but very impressive looking!
Heat a large frying pan and add the ghee, potatoes, garlic, onion and ginger.
Cover and cook on low for 10 minutes to sweat the potatoes down.
Stir a few times.
Don't brown.
Add the remaining ingredients and continue cooking, covered until the potatoes and peas are tender.
I use this as a side dish -- or you can buy eggroll wrappers -- fill them and deep fry till golden -- very nice.