Vegetable Salsa - the Mayo Clinic

Excellent way to get kids (young and old) to eat their veggies. This recipe is easily adjustable to suit your tastes. If you prefer hotter salsa, add finely chopped jalapeno peppers. (I typically use 2 jalapenos, seeded). If you love garlic, add more....if you don't, add less. You could also add chopped black olives. Great served with chips, omelets, chicken, etc. From the Mayo Clinic website. Dietitian's tip: Store-bought salsa can have as much as 400 milligrams of sodium in 1/4 cup. This thick vegetable salsa has much less sodium: 150 milligrams in 1/2 cup. Note: recipe yield somewhat depends on the size of the produce you use.
Directions
Wash vegetables and prepare as directed. In a large bowl, combine all the ingredients. Toss gently to mix. Cover and refrigerate for at least 30 minutes to allow the flavors to blend.
Reviews
Most Helpful
This was really delightful and a great way to use up my garden bounty. Literallly every ingredient came from my garden (except lime juice, salt, and pepper)! I made exactly as posted, using 3 jalapenos and 2 cherry peppers. I added only 1 t. of sugar and 1-1/2 t. salt (since there are a lot of vegetables). Thanks for sharing this healthy treat!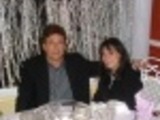 This is a terrific salsa recipe. Like the other reviewer, I used yellow peppers instead of green and loved how colorful it made the salsa. I omitted the sugar as I think the lime juice adds just the right amount of flavor to the veggies. I served this with baked corn tortilla chips (homemade) and felt like I was eating an indulgent snack. This is a great appetizer to have when fresh tomatoes and zucchini are abundant in the garden. This is not only delicious but low calorie and nutricious. Thanks for posting swissms!
Delicious! I would not have thought to put green peppers and zucchini in salsa, but it works! I used one red and one yellow pepper, and added in 3 jalapenos. Be warned, though - if you're not a big spice fan, 1 tsp of ground black pepper may be too much for you! Between the black pepper and the jalapenos, mine came out deliciously picante! The lime and cilantro round this out well - and don't forget the salt! I used sea salt, which I'm using more and more these days instead of the regular stuff. Thanks, Swissms, this is a great recipe! Made for PRMR Tag.