Bergy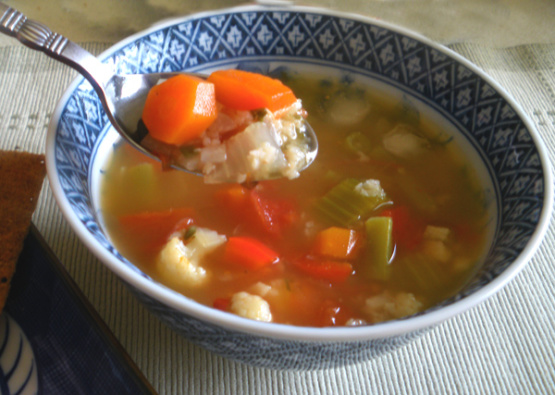 This is one of my favorite soup recipes that I cook for my family during Lent.

This is a delicious healthy recipe! It was a hit with my family and we all enjoyed it. I added broccoli instead of cauliflower, substituted 1/2 teaspoon of dried basil instead of fresh basil. I used 8 cups of water with 3 knorrs vegetable bouillon cubes and I used 1/2 cup of rice. I probably would cook the rice separate next time because mine started falling apart. Thanks for the amazing recipe!
In cooking pot, sauté carrots, celery, scallion, cauliflower with 2 tablespoon of oil and garlic till tender.
Add the vegetable stock or water; 2 tablespoons of oil and boil it for 5 minutes.
To the boiling vegetables, add rice, zucchini, sweet pepper, basil and parsley.
In a medium heat, cook the soup for 45 minutes; add black pepper and salt.
Serve it hot.
P.S. if you are not on Lent or a vegan, you may add cream or plain yogurt. If you prefer spicy soup, you may add chili powder (berbere) or tabasco.