PaulaG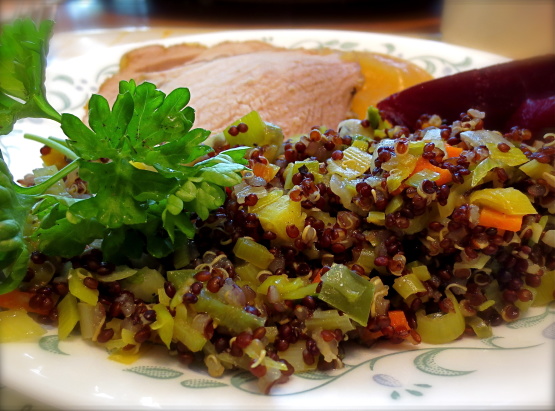 Quinoa is a delicate flavored, rice-like grain that is a rich source of protein.

Really wonderful quinoa, loved all the fresh vegetables melded into the wonderful mix of grain. I ran out of quinoa - (for the full servings) so I added a bit of wild rice along side. It's so wonderful, you will have to eat the first bowl all by yourself, and then squeak in for a second helping! Very easy to put together, and the topping of the parmesan cheese is a perfect addition. Made for *Photo Swap* Photo Forum January 2010
1

cup quinoa, uncooked
1 3⁄4 cups canned chicken broth, undiluted

2

teaspoons olive oil

2

medium leeks, finely chopped (use white portion only)
1⁄4 cup red bell pepper, chopped
1⁄4 cup yellow bell pepper, chopped
1⁄4 cup green bell pepper, chopped
3⁄4 cup carrot, finely chopped
1⁄2 cup celery, finely chopped

2

teaspoons minced garlic

2

tablespoons parmesan cheese, freshly grated
1⁄4 teaspoon salt (to taste)
1⁄4 teaspoon pepper, freshly ground (to taste)
1⁄4 cup fresh parsley, chopped
Rinse quinoa with cold water according to the directions on the package; drain.
In a medium saucepan, combine quinoa and broth; bring to a boil. Cover, reduce heat, and simmer 15 minutes or until quinoa is tender and liquid is absorbed.
In a medium skillet, heat oil over medium-high heat. Add leeks, peppers, carrots, and celery. Cook for 6 minutes or until vegetables are tender, stirring occasionally. Stir in garlic; cook 1 minute.
Combine vegetable mixture and quinoa. Stir in cheese, salt, and pepper. Sprinkle with parsley.