Vegetable Quiche Cups to Go
Pixie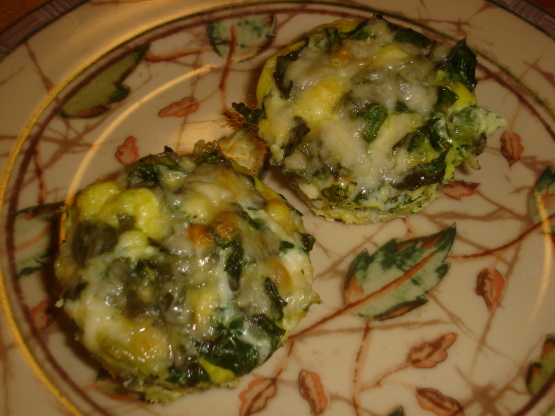 South Beach Diet phase 1. I've seen many variations, however this recipe is verbatim from the book. Quiche cups can be frozen and reheated in the microwave. Any combination of vegetables and reduced fat cheeses may be used.

Top Review by Pixie
Delicious, especially served fresh and hot. Like a mini spinach quiche minus the bad stuff! This is one of my favourite South Beach diet recipes, it makes going back to phase 1 a little easier. I halved the recipe for the two of us and used fresh spinach and green onions since that is what I had on hand. Thanks for posting this, it's a keeper.
Preheat oven to 350°F.
Microwave spinach for 2 1/2 minutes on high. Drain excess liquid.
Line a 12-cup muffin pan with foil baking cups. Spray the cups with cooking spray.
Combine the egg substitute, cheese, peppers, onions, and spinach in a bowl. Mix well.
Divide evenly among muffin cups.
Bake at 350 for 20 minutes, until a knife inserted in the center comes out clean.