Prep 25 mins
Cook 20 mins

An easy vegetarian main course. (Cooking time is how long the roll is in the oven for).
Directions
Prepare the filling; In a large pan, fry the sliced onion in olive oil for 3-4 minutes, add the sliced pepper and continue frying for another couple of minutes before adding the sliced mushrooms.
Stir and fry for 3 minutes, then add the red pepper flakes, wine, and baby spinach leaves. Cook over a medium heat, stirring, until the spinach has wilted and the liquid has reduced away.
Take pan off heat and leave to cool, then add the basil strips and the cream cheese, season with salt and pepper.
Lay 1 sheet of phyllo pastry onto a work surface and lightly brush with melted butter. Lay another sheet of phyllo on top and brush again with the butter. Do this with all sheets.
Place the cooled filling along the centre of the phyllo and bring each long side over to form a roll. Tuck ends in and turn the roll over, so the seam side goes underneath, place onto a baking sheet. Brush the top with melted butter and sprinkle with sesame seeds.
Place into a preheated oven, 400ºF and bake for 20 minutes, until pastry is brown and crispy.
Reviews
Most Helpful
I made this for Christmas lunch for my daughter. She loved it and everyone else tasted it and they thought it was good too. It looked nice and was something a bit different - I will definitely be making it again. Thanks for a great recipe.
I LOVE THIS RECIPE! I messed up on several items--bought puff pastry instead of phyllo which made it sort of "veggies ala wellington" Only had frozen peppers and frozen spinach and had to sub boursin cheese for the cream cheese. This was still wonderful and dinner party worthy. I love the versatility and plan on trying the original soon--mine too was a little soggy on the bottom, but with all those juicy veggies not sure that can be helped and it didn't stop us from eating the entire roll prior to anything else on the table. This will be made again at my house (many times)!!!!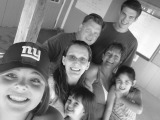 liked receipe-but-too moist-portabella mushrooms too big and spinach too moist-will try brocoli and smaller mushrooms-love phyllo so it has to be a keeper after altering it--taste excellent