Vegetable Pasta Sauce (Crock Pot)
Rita1652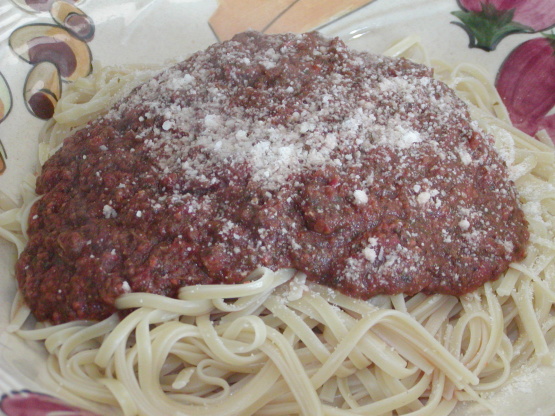 This sauces simmers all day to blend the flavours. Dinner can be on the table in no time after a hard day's work. There are so many chunky vegetables in this that the meat lovers won't even miss the meat :) This sauce makes a lot but freezes well. Created for Ready, Set, Cook! Winter 2005.

Excellent recipe. We enjoyed it very much. I did not thaw the spinach before I stuck it in the food processor. Cooked over a very low heat on the stove for about 3 hours. I did make sure everything was processed pretty well. We still had a few small chunks, but it was great! The kids ate it so well, and the sauce was sweet but still savory as well. Great recipe to sneak some spinach into your kids. Try this! It's good!
Combine tomatoes, spinach, carrot, onion, mushrooms, celery, water, butter, and milk powder in a blender and blend well.
Pour into a crock pot and add seasonings, tomato paste, and cheese.
Cook on low for 8 hours or high for 5 hours.
Serve over your favourite pasta.