Hanka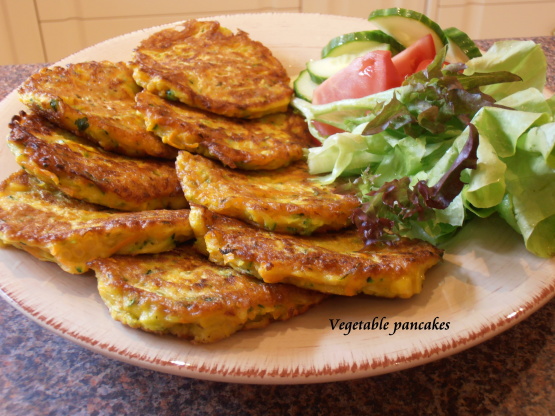 My version of Paula Deen's vegetable pancakes. A tasty side dish that was quickly gobbled up by my cousins two very young children.

These are so easy to make, and so yummy! I've made squash fritters before with cooked squash, but this is my first with grated squash. I didn't add any salt, as I am trying to reduce my sodium intake, but I encourage everyone else to do so! It needed a bit of salt. These cook up very nicely....I reduced the heat on my stove to make sure they were cooked all the way through the middle....but that is my stove. Made for Photo Tag!
In a mixing bowl, stir together the flour, baking powder, salt, and pepper.
In another bowl, beat together the eggbeaters, milk, carrot, zucchini, and green onion; add to the dry ingredients and stir until combined.
Spray a large skillet with cooking spray and warm over medium heat.
Pour the batter by tablespoons into the pan, making a few pancakes at a time.
Cook about 2 minutes on each side and golden brown.
Respray pan with cooking spray as needed.
Serve pancakes at once.