pammyowl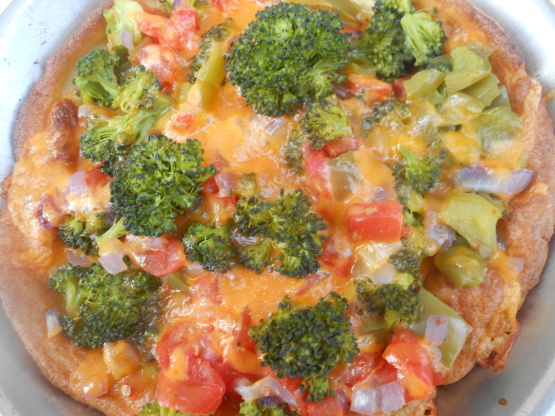 This fluffy oven pancake full of fresh and healthy veggies makes a great lunch or light supper! From "Taste of Home's Prize Winning Recipes Clip-N-Keep Recipe Card Collection" (submitted by Mirien Church).

Mmmm...five stars all the way and quickly goes on to the list of regular rotations. Perfect for breakfast, lunch or dinner. I grew up calling these Dutch babies and this batter was better than any I've tried, it puffed up perfectly. I've never tried a savory version. Looking forward to making this easy and delicious recipe again and adding some mushrooms. But loved it as is. Thanks so much for posting.
Put butter in a 9-inch pie pan; place in a 450 degree Fahrenheit oven until butter is melted.
Remove from oven and carefully tilt pan to coat bottom and sides with the melted butter.
In a medium bowl, beat the flour, eggs, milk, and 1/4 teaspoon of salt until smooth.
Pour into the pie pan; bake at 450 degrees Fahrenheit for 14 to 16 minutes, until puffed around the edges and golden brown.
While the pancake is cooking, cook the broccoli, green pepper, tomato, and onion in the 2 tablespoons water for 8 to 10 minutes until tender-crisp. Drain well.
Toss with pepper and remaining 1/4 teaspoon of salt.
Sprinkle the cooked pancake with 1/2 cup cheese; top with vegetables and remaining 1 cup of cheese.
Bake at 450 degrees Fahrenheit for 3 or 4 more minutes, or until cheese is melted.
Serve immediately.