Calee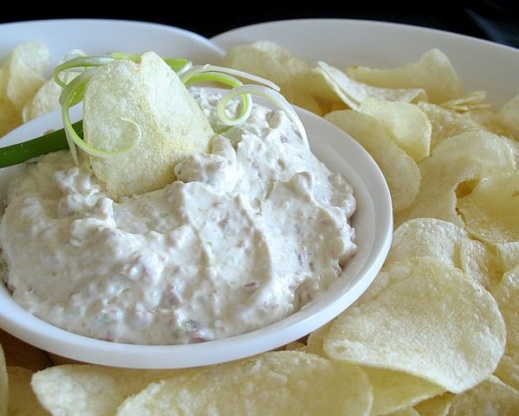 A tasty dip for veggies, potato chips, crackers, bread sticks, or chunks of a good homemade style bread. This dip is a standard at all our family and friend gatherings. It is hard to stop eating it once you start, addictive! You can make it a day ahead because the flavor is best after chilling overnight, or chill for a couple hours and eat it immediately. The yield is an estimate only.

Top Review by Calee
*Awesome* dip. I cooked the bacon and let it cool mixed the cream cheese and the cooled bacon in the food processor which made the bacon even smaller than I could chopped it. Ive made this twice in the last week. Love it. We had it with potato chips, also taste good with cherry tomatoes! I think this is better than any store bought dip Ive tried. Thanks for sharing this recipe foodtvfan!
Fry bacon pieces until crisp. Drain well on paper towels. Cool.
Finely chop green onions.
Cream the cream cheese by hand or with an electric mixer.
Add sour cream and salad dressing. Mix well with a spoon.
Add bacon and green onions with a spoon.
Refrigerate a couple of hours at least, or better yet overnight, before serving.