Bergy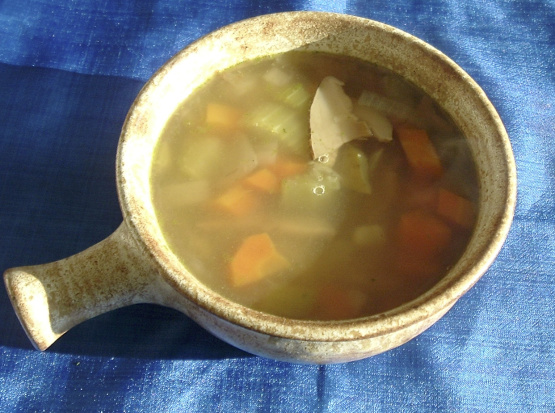 from the NY Times, this is very similar to the vegetable soup my own grandmother used to make. she always used dry mushrooms.

I made 2 servings using 2 large dried mushrooms (which I soaked in very hot water for 1 hr and then sliced before adding to soup) and veggie stock and the mushroom soaking water in place of the water. I added the onion with the other veggies and saved the butter and flour calories. Very light and with a good flavor. This soup and a toasted fat free cheese sandwich just hit the spot tonight.
Place potatoes, carrots, parsley and celery in a soup pot.
Cover with about 8 cups water.
Add salt, pepper and mushrooms.
Bring to a boil, then reduce heat and simmer, half covered, for 1 hour.
When soup is almost done, melt butter in a small frying pan.
Add onions and sauté until transparent.
Add flour and stir until flour is brown, 5 minutes.
Stir into soup and serve.