Rita1652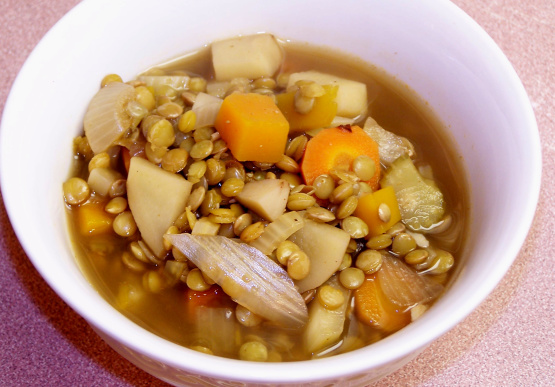 This is a nice fall-winter dish, although you could probably enjoy this year round. Since playing RSC #9 I actually fell in love with lentils, and they definetely go a long way in any recipe.

I made this for todays lunch thinking it would be perfect for a windy and rainy day. I like the basic soup but I must agree with Rita that it would benefit from more seasoning. I made a 4 serving amount and 1/3 tsp of paprika and 1/2 tsp of cumin doesn't go far in adding much flavor. At taste test time I quickly added a heavy dose of dry veggie stock, quadrupled the ask for seasoning and 2 rounded tsps of curry powder. I felt that helped it a lot. I do recognize that seasoning is a personal taste matter and that my additions might be too much for some.
Sauté white onion and garlic in olive oil until translucent. Make sure to stir frequently to prevent stickiness and the garlic from burning.
Add carrots and sauté a few minutes longer. Add salt, pepper, cumin ad paprika, and stir well.
Add all other vegetables and lentils and mix well. Then add 7 cups of water.
Let it come to a boil, then reduce to simmer for 45 minutes. Add water if necessary.
Serve warm.