Vegetable Lentil Cream/Soup
ImPat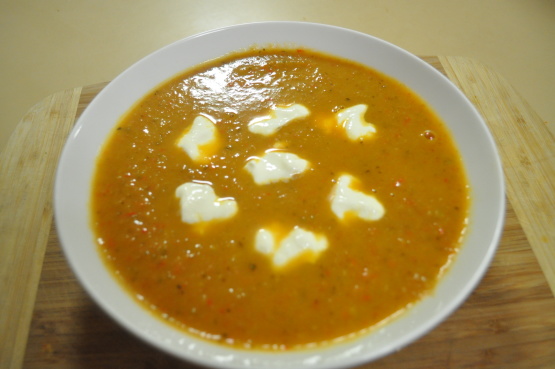 A recipe from Ricardo that can be frozen. In this recipe you'll need half this recipe: Lentil Pilaf or 2 cups cooked lentils.

Top Review by ImPat
This certainly is packed with flavour and so very filling. I used the stick blender to smooth it out. From a full recipe I got 12 cups and the DM really enjoyed. I have frozen the rest for later use. Like others I also added some garlic cloves and a couple of small grown onions quartered, though I did have to add about another 2 cups of vegetable stock or we would have been eating it with a fork. Thank you Boomette, made for Went to the Market.
Put rack in the center of the oven. Preheat oven to 450°F.
On a baking sheet, mix all veggies, balsamic vinegar and oil. Add salt and pepper. Cook in the oven for about 20 minutes until the veggies are tender, stirring a few times during cooking. Remove skin from the tomatoes and cut in dice.
In a saucepan, bring to boil the chicken stock, veggies and lentils. Let simmer about 5 minutes or until veggies and lentils are very tender. In a blender, reduce the soup to a creamy puree. Add more stock if needed. Adjust seasoning.
Serve this soup as a main dish. You can serve a piece of cheese with Naan bread.