Vegetable Lasagna With White Sauce
SLCWoods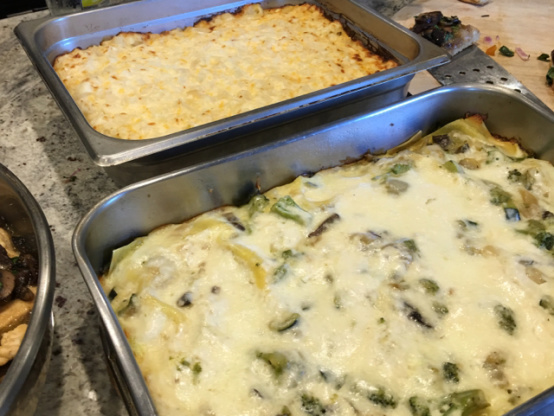 I am posting this recipe, by request. It is a very nice non-tomato sauce vegetarian lasagna. Not gluten-free!
This was really good. As usual it needed a few things, but not much. I tend to exaggerate cheese so I added more mozzarella and more Parmesan than it called for. I also used garlic salt in place of the regular salt. I also added garlic to the white sauce. It's just my style, garlic is good. I've made this twice in 2 weeks and it has been a hit at home for sure. For extra measure, be sure to play John Prine's first record while making it, it makes cooking even better.
Dice zucchini. Coarsely chop broccoli and spinach.
In a nonstick 12 -inch skillet over medium heat, melt butter (or margarine), cook zucchini, broccoli, oregano, and 1/4 teaspoon of salt, stirring frequently, until vegetables are tender-crisp, about 5 minutes. Add Spinach and toss until wilted. remove skillet from heat.
In medium bowl, with fork, mix ricotta and eggs; set aside.
Prepare lasagna noodles as label directs. Drain.
Meanwhile, preheat oven to 350 degrees F.
In 2-quart saucepan over medium heat, melt 3 tablespoons margarine (or butter). Stir in flour and 1/4 teaspoon salt until smooth. Gradually stir in milk; cook, stirring constantly until sauce comes to a boil and thickens. Remove saucepan from heat; stir in Parmesan cheese.
In13-by-9-inch glass baking dish, layer half of the prepared lasagna noodles, half of the ricotta mixture, half of the vegetable mixture, and half of the mozzarella. Top with half of the sauce, then with the remaining noodles, ricotta, and vegetable mixture. Spoon remaining sauce over vegetable layer; arrange remaining mozzarella on top.
Bake lasagna 40 to 45 minutes until hot and bubbly. Let lasagna stand 10 minutes for easier serving.