Vegetable Lasagna With a Thick Bechamel Sauce
2Bleu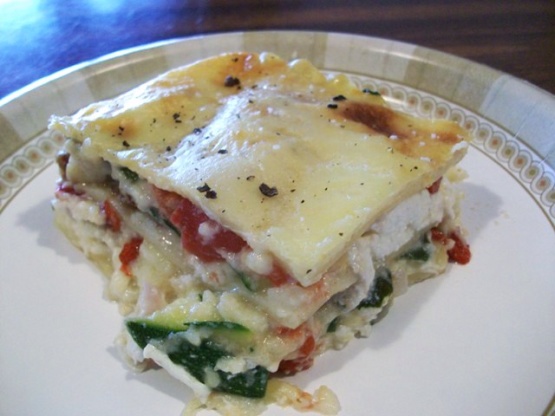 A great lasagna with lots of flavor.

Top Review by Marich
Wonderful recipe! We don't care for veg lasagna in red sauce. I made extra Bechamel sauce and also added a small container of ricotta. Eliminated the mushrooms and added shredded carrots. Delish. Just the way we like vegetable lasagna.
Cheese mixture

1

cup part-skim ricotta cheese

2

cups part-skim mozzarella cheese, shredded
1⁄2 cup parmesan cheese, grated
1⁄2 teaspoon black pepper, to taste

2

tablespoons parsley, chopped

Vegetable layer

1

medium onion, sliced

4

garlic cloves, minced

1

medium zucchini, shredded

6

ounces mushrooms, sliced thin

1

(14 1/2 ounce) can diced tomatoes

1

(12 ounce) jar roasted peppers, sliced

3

ounces tomato paste

1

tablespoon italian seasoning
1⁄4 teaspoon crushed red pepper flakes (or curry paste)
1⁄4 teaspoon salt, to taste
1⁄4 teaspoon black pepper, to taste

Bechamel

8

tablespoons butter (1 stick)
1⁄2 cup flour
1 1⁄2 cups 2% low-fat milk
1⁄4 cup parmesan cheese, grated

2

eggs, beaten

Other ingredients needed

1

(16 ounce) box lasagna noodles, cooked

10

ounces fresh spinach (optional)
Preheat oven to 375°F In a medium bowl, mix cheese layer ingredients together well and set aside.
VEGETABLES: In a large skillet, heat the onion and garlic over medium heat. Sauté until the onions are translucent. Add the zucchini and mushrooms. Saute until the water has evaporated from the zucchini. Add sliced tomatoes, tomato paste and seasonings. Cook to reduce and thicken. Set aside.
BECHAMEL: Melt the butter in a medium saucepan over medium heat. Whisk in the flour slowly until the roux, whisk or stir for about 1-2 minutes.
Add the milk slowly while whisking constantly to avoid lumps. Cook over medium heat for about 5 minutes until the béchamel comes to a medium thickness (soft paste texture) Remove from heat and rest 2 minutes, stirring occasionally, to cool slightly. While whisking, slowly add the eggs a little at a time until incorporated well.
ASSEMBLY: To a 9x13 pan, Spread a thin layer of Bechamel sauce into the bottom of the lasagna pan. Place a layer of cooked lasagna sheets, cut to fit into the pan if necessary. Add a thin layer of cheese mixture, then some spinach, followed with a vegetable layer. Repeat.
Continue layering in this manner until ingredients are used up. Pour the remaining Bechamel sauce over top. Bake for 40-45 minutes or until bubbly. Let stand for 10-15 minutes before slicing.