Julie S.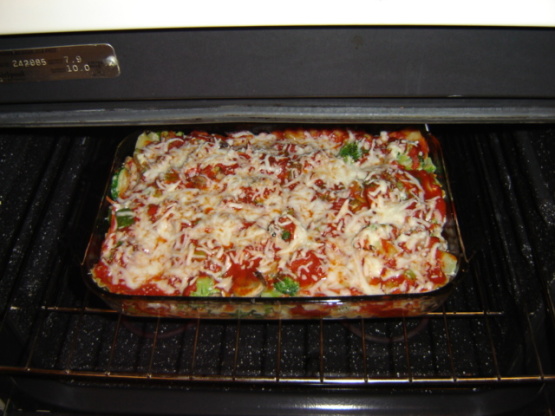 This is the best lasagna I've ever made. I modified it once to include Japanese eggplant and a second time I added about 1/2 cup leftover taco turkey meat. So delicious and easy!
Combine frozen vegetables with garlic and microwave 10 minutes or until tender.
Drain Coat a non-stick pan with cooking spray.
Place over medium heat and sauté mushrooms, zucchini and onion about 5 minutes.
Add carrots; cook 3 minutes more.
Stir in cottage cheese, egg substitute, Parmesan cheese and parsley.
Arrange 3 lasagna noodles in a single layer in 13x9 inch pan.
Top with 1/3 of the vegetables, 1/3 of the spaghetti sauce and 1/3 of the cheese.
Repeat layers, cover with foil and bake at 350° for 50 minutes.
Remove foil and bake 10 minutes more.
Let stand 15 minutes before serving.