Parsley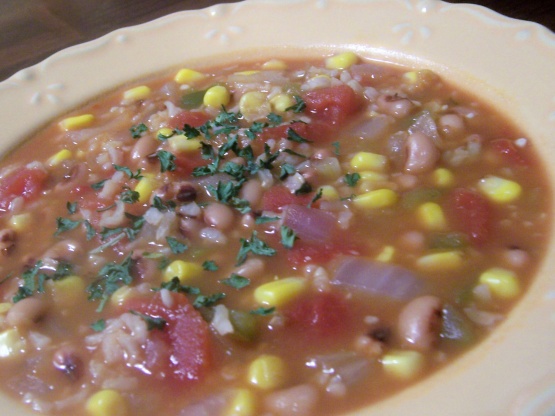 From Betty Crocker's Vegetarian Cooking. Suggests to serve with corn muffins.

I loved this and it was so quick and easy to make. Used red kidney beans in place of the black eyed peas, beef broth instead of vegetable and a couple pinches of red pepper flakes for the ground red pepper. I didnt have a lot of broth when the jambalaya was done cooking so next time I will add another can of broth. Great vegetarian meal that is inexpensive too. Thank you kbksmama for posting this recipe. Made and reviewed for Pick A Chef Spring 2009.
Heat oil in 10-inch skillet over medium high heat.
Cook onion, bell pepper and garlic in oil 2 to 5 minutes, stirring occasionally, until vegetables are crisp tender.
Stir in rice and cook 2 to 3 minutes, stirring occasionally, until rice is light golden brown.
Stir in broth, heat to boiling.
Reduce heat to low, cover and simmer 15 minutes.
Stir in remaining ingredients.
Cover and simmer 5 to 10 minutes or until vegetables and rice are tender.