CarolAT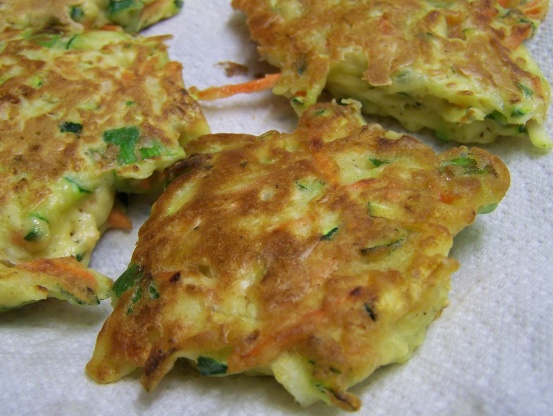 Makes a nice change at dinner time.

I made these last night to serve to my 15 month old son. He's getting a little bit picky about eating his vegetables, but he loves anything that comes in pancake form. Anyways, these were delish and a hit with the kiddo. The only deviation I made from the recipe was to use whole wheat pastry flour instead of AP flour just to hit one more level of sneaky health-foodiness. I shredded the carrot on the fine shred of my box grater and the zucchini on the medium. Only 4 stars instead of 5 because they were a tad salty. I think next time I will reduce the salt by 25%.
Combine flour, baking powder, slat, and pepper. In a separate bowl, beat together the egg, milk, carrot, zucchini and green onion. Stir the wet ingredients into the dry until just combined.
Heat 1 tablespoon of oil in a skillet. Pour the batter by tablespoons into the hot oil. Cook until golden, about 2 minutes on each side. Add the remaining oil to the skillet as needed. Drain on paper towel.