Derf2440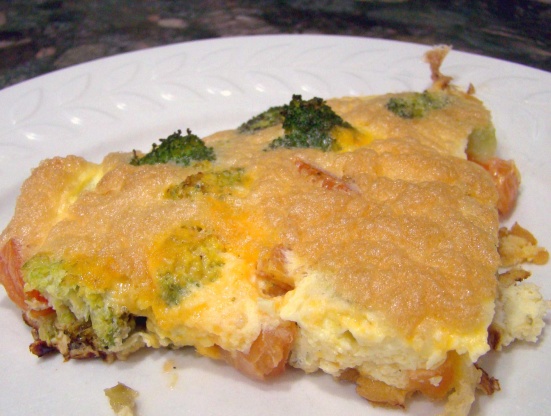 Tasty and quick supper, I did it all in one operation with veggie spray instead of butter and olive oil. Sauteed the veggies in veggie spray, beat the eggs well and just poured the eggs over the veggies in the pan, waited for the underside to set and popped it in the oven. I used broccoli instead of the zucchini, personal preference. I did sprinkle some cheddar cheese over the top. Mine did take about 12 minutes to rise and become golden, it was lovely thanks for posting.
In skillet, cook onions and green pepper in butter and 2 tablespoons olive oil, stirring, 5 minutes.
Add zucchini, cook covered 4 minutes.
Add garlic, salt and tomato, cook stirring, 5 minutes.
Transfer to bowl.
Cool.
Add eggs.
Over medium heat, heat 2 tablespoons olive oil in 10" ovenproof skillet.
Add egg mixture, cook 3-5 minutes till underside is set.
Bake preheated 400 degrees F oven for 1 to 2 minutes till puffed and golden.
Cut into wedges.