Sageca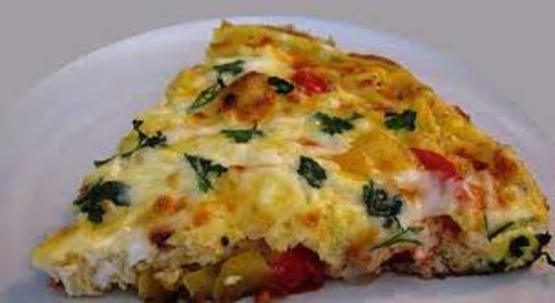 This recipe is from a book I recieved in the Cookbook Swap. A type of Italian omelette. Serve this meatless version with a garden salad topped with your favourite dressing.

Since I wasn't going to serve this topped with tomatoes, I decided to add an additional ingredient ~ 1/8 cup of diced red bell pepper, mostly for the red, & we had really great breakfast A REALLY GREAT TASTING VEGGIE DISH, & I'll be keeping a copy of this recipe around! Many thanks! [Tagged, made & reviewed while in Spain with the ZWT5]
In medium saucepan combine broccoli, carrot and onion in water. .Bring to a boil. Cover an simmer 6-8 minutes until vegetables are tender-crisp. Drain well.
Meanwhile, in a small bowl, beat egg product,basil,parsley,mustard and pepper. thoroughly. Coat a large nonstick skillet with cooking spray. Preheat over medium heat. Spread cooked vegetables in the bottom of skillet. Sprinkle with 1/2 the cheese. Pour egg mixture over vegetables. As mixture sets run a spatula around edge of skillet lifting egg mixture so uncooked portion flows underneath
Continue cooking until almost set but still glossy.Remove from heat sprinkle with rest of cheese. Cover and let stand 3 minutes or until top is set.
Cut into wedges to serve. If desired serve with tomato slices.