Derf2440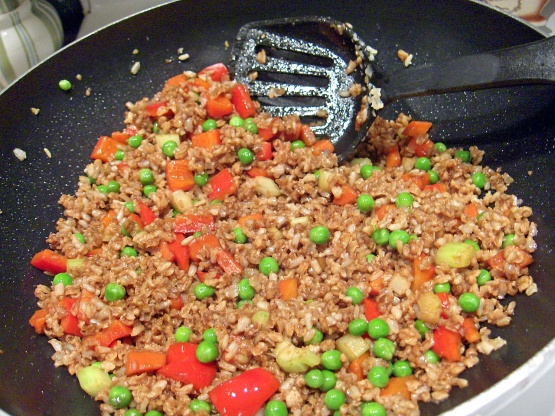 This was very tasty and I will be making this again. I agree that the directions were a bit hard to decipher, but through other reviews, I was able to figure it out. I did not have peanut oil on hand, so I used olive oil as an alternative and the veggies I used were carrot, celery, brocoli and onion. All of the family enjoyed this very much. Thanks!
Combine the ingredients for the sauce in a small bowl.
Mix to blend well and set aside. Place a small skillet over medium heat. When it begins to smoke, add 2 tablespoons of peanut oil and the lightly beaten eggs.
Stir until the eggs are firm but moist. Transfer the eggs from the skillet to a small bowl and break them into small curds.
Set aside. Bring 1 quart of water to a boil in a small saucepan.
Add the carrot and boil 1 minute. Drain and rinse in cold water.
Drain again and reserve. Place a wok over medium-high heat. When it begins to smoke, add the remaining 1/4 cup of peanut oil and the garlic. Stir briefly.
Add the carrots, celery, red pepper, and peas.
Stir-fry 1 minute. Stir in the rice and stir-fry 1 minute. Pour in the sauce and cook until the rice is heated through, about 5 minutes, stirring frequently.
Serve hot.