Vegetable Fried Brown Rice
Maggie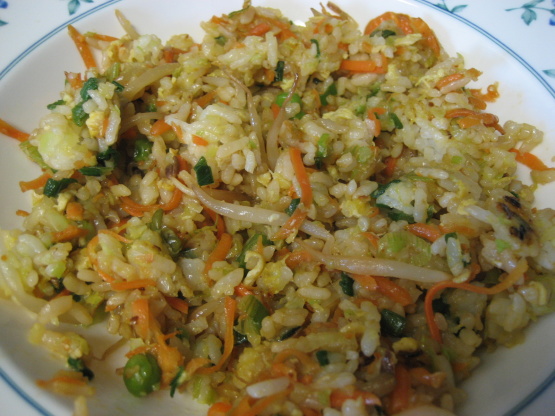 Tired of being let down by take-out, I begged this recipe off a coworker's mom who owned a Chinese restaurant, and I have yet to find one that tops it.

I was missing so many ingriedients, but it was still amazing. I had 1 onion, no peanut oil, bean sprouts, cabbage, or peas. I used 2 whole eggs and double the rice and carrots and soy sauce. It was still amazing. I'm sure if i had everything, it would be even better. Perfect for chinese new year '09
In saucepan, bring water & rice to boil. STir frequently so it doesn't stick.
Reduce heat, cover & simmer 20 minutes or until all liquid is absorbed.
In large skillet, heat peanut oil over medium heat. Add cooked rice & sauté until lightly golden.
Add onions, salt, carrots, & sprouts. Stir-fry 5 minutes until vegetables are tender yet crisp.
Hollow out a circle in center of skillet. Pour egg whites into hollow & cook, lightly scrambling.
Stir egg into rice mixture.
Sprinkle with light soy sauce, sesame oil, & chopped parsley.