Vegetable Couscous Salad With Parmesan
tamalita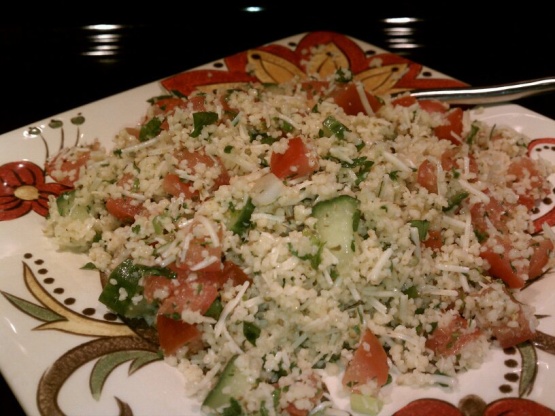 Is there a better summer dish than couscous? Fast, easy and barely any cooking; this couscous salad has fresh summer vegetables all mixed together with a light lemon juice and oregano dressing. One of my favorite couscous preparations.
Bring broth to a boil in a saucepan; add couscous, remove from heat, cover and let stand for about 5 minutes, until couscous has absorbed broth.
Let cool, then place in a bowl and fluff with a fork.
Add tomato, green onions, cucumber, parsley and Parmesan cheese to the couscous.
In a small bowl, whisk together the lemon juice, olive oil, oregano, salt and peppers.
Pour over the salad, mixing well.
Refrigerate salad for at least 2 hours; bring to room temperature to eat.