flower7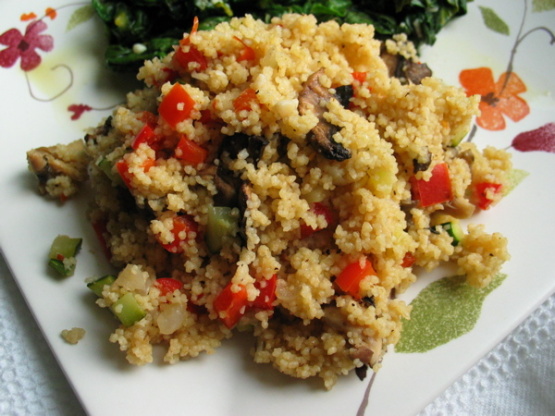 This recipe is adapted from yooper's zucchini couscous recipe here on zaar. Goes great as a side dish and can be eaten hot or cold. We've found that it goes really well with PinkCherryBlossom's Spinach and Chickpea Curry

This was my first experience with couscous (I used whole grain). I enjoyed the end result of this recipe. I used chicken broth in place of the water. I omitted the mushrooms. My comments are mainly around the amounts called for - I ended up with tons of onion because I used 1 onion that was rather large. I would like to see amounts (1 cup onion, 2 cups chopped zucchini...) and also, I had no idea what "chili" was - chili powder? I used crushed red pepper flakes and that ended up being WAY too spicy. I enjoyed the method of cooking couscous though and will try it again, possibly with other vegetables.
Chop the onion.
Cut zucchini & capsicum into small cubes.
Slice mushrooms.
In a saucepan, cook onion, garlic & chili in the olive oil until translucent.
Add remaining vegetables and the cumin, salt & pepper.
Cook for about 5 minutes until tender, stirring to cook evenly.
Add water and allow it to come to the boil.
Add couscous, stir through, turn off heat & cover & leave for 5 minutes.
Give it a stir with a fork to fluff it up a bit & serve as a side dish.
Delish!