Rita1652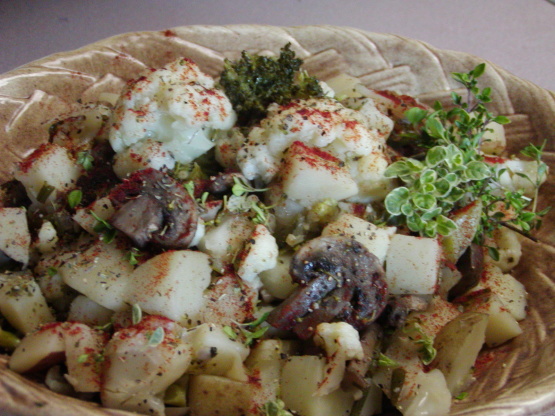 This low-sodium side dish seems like a great way to clean out the veggie drawer, substituting whatever vegetables are on hand. Recipe source: local newspaper

This was quit good! I set the timer for 20 minutes because I was grilling outdoors which I found to be a bit to long. I do like my vegies with more of a crunch. But this was a nice comfort food dish in the softer state. I skipped the zucchini. Made a quich with the leftovers! Thanks!
In a large skillet over medium high heat, heat oil and 2 tablespoons chicken broth.
Cook, stirring the scallions and garlic in the oil/broth mixture for 2 minutes.
Add remaining chicken broth (1/2 cup) and vegetables; cover and simmer for 20 minutes or until vegetables are cooked.
Sprinkle with herbs and pepper.