PanNan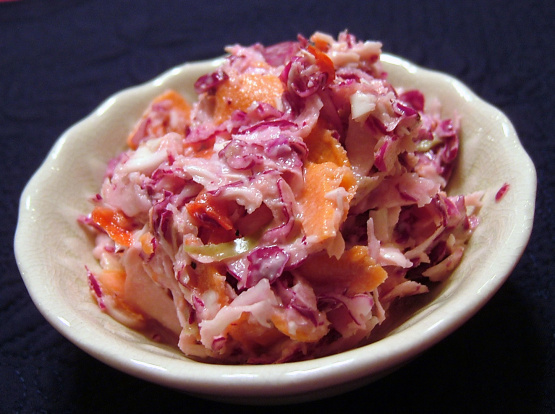 This salad not only looks beautiful, and tastes great, but it is very easy to make. It goes with anything! I have paired it with corned beef, submarine sandwiches, as well as picnic's, brunches, and pot-lucks.

Delicious! I made a few changes, I reduced the celery, used only green cabbage, used seasoned salt and lots fresh ground black pepper, I also added in 1 teaspoon garlic powder, make certain to hand-squeeze out all excess moisture in the carrots or you will have a very liquidy salad, I finely-grated one lare carrot for this, that was plenty for this salad, great recipe thanks for sharing hon!
Shred cabbage and mix with finely chopped onion, celery, bell peppers and grated carrots.
Add salt, pepper, sugar, olive oil, and white wine vinegar.
Mix all ingredients together thoroughly.
Add mayonnaise and caraway seeds, if using, and toss lightly, until mixture is creamy.