Annacia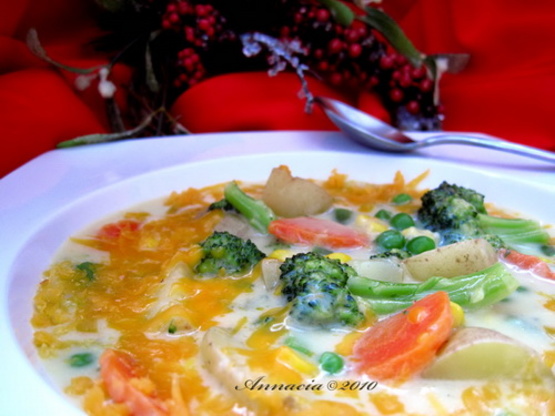 A healthier style chowder made using all those dribbles of left over frozen vegetables. *Tip take veggies out of freezer so they are partially thawed when adding to the soup.

Love, love, love all of the veggies, I added a bit of broccoli that was needing to be used up. For me the one things that I would change is to add some more seasoning. Next time I'll use veggie or chicken broth along with extra seasoning herbs. Still, it was enjoyed with some more salt and pepper and a sprinkle of cheese.
2

tablespoons butter

1

bunch scallion, sliced, keep the white and green parts separated

4

carrots, cut into 1/2-inch chunks

1

lb red potatoes, cut into 1/2-inch chunks
1⁄2 teaspoon salt
1⁄2 teaspoon pepper
1⁄4 teaspoon garlic powder

2

tablespoons flour

3

cups water

2

cups milk, whole for a richer flavor and 1% if like me you have to watch the fat

1

cup cut green beans

1

cup corn

1

cup peas
1⁄4 teaspoon thyme, powder
Melt butter in large pot over medium heat. Add white part of scallions, carrots, potatoes, salt, pepper, and garlic powder. Cover and cook 8 minutes, stirring occasionally, until vegetables are slightly soft but not browned.
Add flour to pot and mix into vegetables. Add water stiring at same time to dissolve the flour. Bring to a boil, reduce heat, cover and simmer 10 minutes or until vegetables are almost tender.
Stir in green part of scallions, milk, green beans, corn, peas, and thyme. Bring to a boil, reduce heat and simmer uncovered 5 to 10 minutes until vegetables are tender. (Make sure heat is not to high or milk will scorch and get yucky.).