GaylaV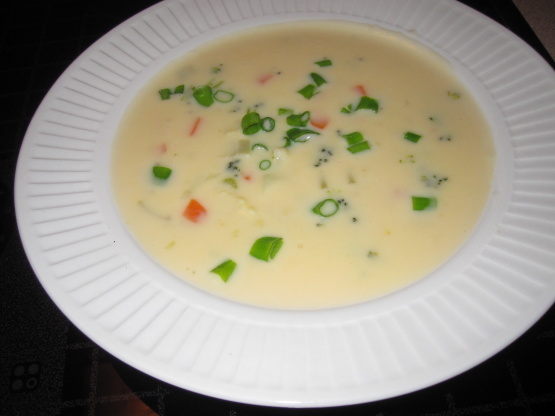 This soup takes a little work, but it's worth it in my opinion. It's comfort in a bowl and I love it in the winter time.

Top Review by GaylaV
This was a very rich and tasty soup with just a couple of small changes. I only used 1/2 cup of flour as it became apparent as I was adding the flour that more than that would be too much for us. I switched up the cheez whiz for velveeta looking for that creamy smooth taste and it worked very well. I am just not that crazy about cheez whiz. I used the powdered mustard, didn't measure it but likely about 1/2 tsp. I also didn't measure the cayenne but I think it would be a little less than 1/4 tsp. I forgot it and had to throw it in just as I was serving. Sorry for not being more accurate. With these changes we felt it was thick enough and was certainly velvety. I will def. be making this soup again. Thanks for sharing your recipe. Made for PAC 2010.
Boil vegetables in water for five to ten minutes or until crisp tender and drain.
Saute onion whites in butter.
Add flour and blend well.
In separate pan, bring milk and broth to a boil.
Slowly incorporate broth mixture with flour, blending well with a wisk.
Add cheese, salt, pepper, and cayenne.
Stir in mustard and boiled vegetables.
Bring soup to a boil.
Serve immediately.