Vegetable Casserole (Grönsaksgratin)
For Zaar World Tour 2, a Scandanavian dish:)
Directions
Heat 1 inch salted water to boiling. Add carrots, beans, cauliflower and onion.
Heat to boiling; reduce heat. Cover and simmer until tender, 12 to 15 minutes.
Drain vegetables, reserving 1 cup liquid.
Place vegetables in ungreased 11 x 7-inch baking dish or 8-inch square baking dish.
Heat butter over low heat until melted. Blend in flour, salt and pepper. Cook over low heat, stirring constantly, until mixture is smooth and bubbly; remove from heat. Stir in reserved liquid and whipping cram. Heat to boiling, stirring constantly. Boil and stir 1 minute; remove from heat. Pour sauce over vegetables; sprinkle with cheese.
Set oven to broil or 550 degrees F. Broil until top is light brown and bubbly, 3 to 5 minutes.
Most Helpful
We both really enjoyed this, and it's full of healthful veggies:D To make it even more healthful, I subbed non-fat half-and-half for the whipping cream and cut back a bit on the butter. Instead of parmesan I added asiago cheese which I had on hand. I was thinking you could add vegetable broth instead of water from the vegetables, but it turned out fine as is. We ate 3/4 of the dish, then I had the rest for breakfast:D Thanks Angela, my teammate for ZWT IV:)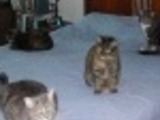 This is decadent!! DH darn near ate the whole thing!! Very rich and delicious! Next time we want to add broccoli to it! Thanks for a great veggie dish!